Our online photo library comprises a collection of more than 6000 photographs and is constantly expanding thanks to gifts and purchases. The images relate to most aspects of the Jewish community of Belgium.
Among the many themes displayed, you can find family photographs, pictures of Belgian and foreign Jewish personalities, the different Jewish political movements, synagogal and religious life, Zionism, the main global conflicts, the history of Jews before 1830 in the future Belgium, the large Jewish social organisations (Bnei Brit, Naamat), sports associations, the Jewish Secular Community Centre, homes, schools and youth centres, the Jewish scouts, Art, professions, theatre and music, film industry, cemeteries and Post-Shoah memorials, etc.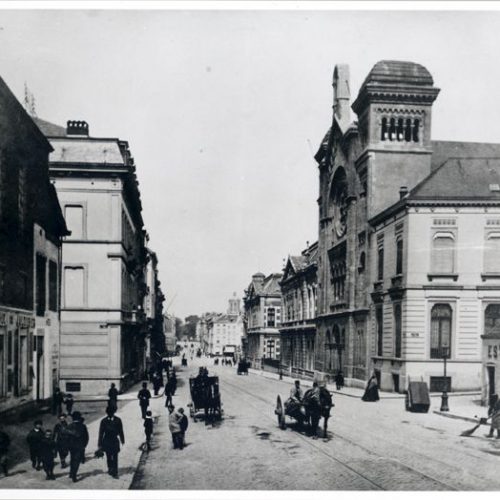 You can order digital or paper photographs (with exceptions*) mentioning our copyright below the image (© Collections Musée Juif de Belgique, or © Collections MJB). You can consult the different applicable fees below.
* reproduction of photographs with recognizable persons is prohibited without the express and prior consent of the persons featured on the photographs .
Copyright Fees
| | |
| --- | --- |
| Colour printed copy | 40 € per publication |
| Black and white printed copy | 20 € per publication |
| Printed copy used for book cover or magazine… | 150 € per publication |
Please contact us for large quantities or special requests
Digital Copy Fees
| | |
| --- | --- |
| Digitised copy for private use | 5 € per unit |
| Digitised copy for commercial use | 10 € per unit |
| Unzipped digitised copy (Tiff 360dpi) | 12 € /CD-ROM |
No additional fee for sending photographs in JPEG (zip) by email.